This is a post in my So, you want to be a Product Manager? series.
If you're keen on being a Product Manager, you have to know how to lead an empowered, autonomous, cross-functional team. And not just any team, but one that's super-focused on delivering customer outcomes, and continuous improvement, and is able to embrace parallel discovery and delivery activities. All of this while having no formal authority over the people in the team.
Empowerment: let's dive in!
First things first, let's understand the complementary concepts that make empowerment: alignment and autonomy.
When you empower your team, you give them the resources and freedom to make decisions and take ownership of their work. This means you need to provide clear goals and regular feedback (alignment), and all the tools and resources they need. But most importantly, you need to trust your team to make decisions without micromanagement (autonomy). This will help them feel both ownership and accountability.
Cross-functional teams
The product team is the unit of delivery. Teams are responsible for the success of the product, and must have all the skills necessary to discover, deliver and operate the product. While everyone brings different skills to the table, working together and collaborating is key. This is where the Product Trio come in.
You need to ensure that everyone in your team has a shared understanding of the product vision, goals, and objectives. Everyone needs to know their roles and responsibilities to achieve the desired customer outcomes. Remember, collaboration is key, and the Product Trio is the mechanism to ensure it.
Customer Outcomes
How do we know we're making progress? Customer outcomes!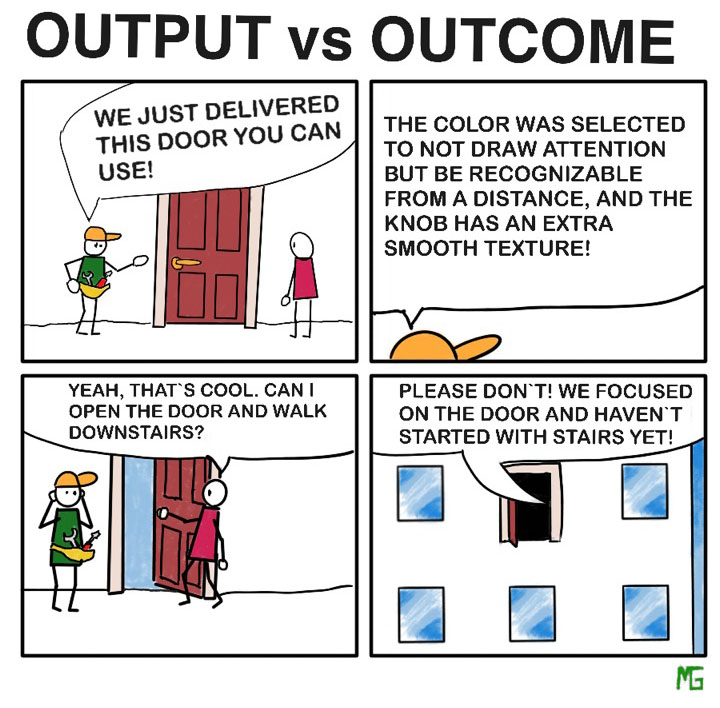 That's where your focus should be at all times. The team needs to understand your customers' problems, needs and desires, and then develop a product that meets those needs in ways that customers love, and work for the business.
Continuous improvement
Continuous improvement is the next thing to keep in mind. It should be a core principle of your product development process. For your product, set up regular feedback loops to evaluate your product, identify areas for improvement, and make changes accordingly. Encourage experimentation and learning, and embrace failure as an opportunity to learn and grow.
More importantly, for your Team, make sure that the team have regular time to reflect on the way the group and individuals feel, the way you work and collaborate together, the tools you use, and the ways in which you celebrate, support and encourage each other. Apply the concept (not necessarily the by-the-book 7-step mechanism) of Kaizen. And make sure you are celebrating your wins too!
The Cross-functional Team is your superpower 🦸‍♂️
Empowerment, cross-functional collaboration, autonomy, a focus on customer outcomes, and continuous improvement of the product and the team are all hallmarks of a healthy Cross-functional Product team. Care about these key principles, and you'll emerge as the leader of a kick-ass team!